October 2023
---
October 2023—As Autumn sets in, there's something about the rain returning to the Northwest that makes Oregon feel like Oregon again. Read on for notes from recent months and news on some exciting developments to come:
Ripple Effect
Waechter's projects and process continue to make waves beyond the Pacific Northwest. Ben was in NYC in September for the Fast Company Innovation Festival & Awards Celebration—Waechter's Mississippi Workshop was honored in the
Spaces & Places
category. Rockwood Village was also featured and recognized as one of the affordable housing projects of the year at the Multifamily Executive Awards in Dallas, TX. And collectively, the firm received an Architizer Vision Award in the
Architect Creator
category, in recognition of our commitment to craft and unique design process. And just last week, The Architect's Newspaper listed us as one of
AN Interiors top Architecture and Design Firms of 2023
.
Seasonal Details
This Fall, we're working to complete residential, ADU, and "missing middle" dwellings for clients old and new, and also carry forward approaches and lessons into a new generation of projects. Last year's Meadow House was featured in Residential Design magazine, with a great
article and conversation
between Cheryl Weber and Ben Waechter on the house's distilled form, landscape-centered approach, and strategies for detailing that turn light, shadow, vegetation, and much-anticipated rain into something of an art form.
The office was also able to visit with buiilders Owen Gabbert LLC and Cutwater PDX at our soon to be completed Enfilade House in Portland, which has risen from the ashes of a fire that destroyed the family's former home. With crisp edges and clear forms that stand out in sunlight, it also has generous windows and new fireplaces that will make the most of grayer days to come.
Room for Growth

In the past few months, Waechter has also built new partnerships with organizations working on strengthening our communities and our creative ecosystem. On the housing front, we are working with Home First and Green Light Development on a new affordable community in Estacada, and equally, on a set of frameworks and design standards that can be applied across a range of project types, scales, and contexts.
We're also opening our doors to a range of new offerings and opportunities at our Mississippi building. Last week, we helped WildCraft Studio School set up a series of offsite classes for Nike staff in our courtyard and workshop. Whatever the medium or subject matter, it's a joy to share our space with other creators and educators, and we're looking forward to having
WildCraft
back for more courses and events at the Workshop, starting in February 2024. Whether for a class or just for coffee at Capitola, we hope you'll swing by for a visit!



---
Mississippi Workshop
Architect Creator Category
Waechter Architecture
Meadow House
July 2023
---
In the midst of travel, time for recreation, family, and the Women's World Cup, we've had a busy summer of engaging conversations, project exploration, and new partnerships. A recap:
Good, Better, Best

Our team kicked off the summer with a retreat along Oregon's McKenzie River. We discussed ways to strengthen and diversify our office culture, develop a more integrated design process, and discover what unites us creatively and professionally. With so many insights, shared meals, recipes, and memories, we'll look to connect these threads in the days and weeks ahead.

The retreat also gave us a closer look at Ben's first solo project—a one-story annex that was built next to the family's vacation home in 1997. The cabin holds many of the traits that define our work today: clarity of form and material, a well-organized plan, sensitive integration with the landscape, and expressive and thoughtful detailing.

Days after the retreat, we learned that WA was one of two firms honored in The Architect's Newspaper Best in Practice awards in the Small Firm / Western U.S. category, along with Seattle's atelierjones.

McKenzie River Cabin. Photo: William Smith
McKenzie River Cabin. Photo: Keith Alnwick
Home-building

Our work to address the housing crisis continues to receive significant recognition, and we're embarking on new projects and processes focused on producing efficient, resilient, and beautiful architecture for all.

Waechter's Rockwood Village was named a DJC Oregon Top Project, taking first place in the affordable housing category, and will be receiving awards from two key industry publications later this summer: Multifamily Executive and Affordable Housing Finance. Designed and realized in partnership with Community Development Partners, Hacienda CDC, PLACE Landscape Architecture and LMC Construction, Rockwood will also be featured in The Architect's Newspaper July / August issue on Collective Living, which was released today.

We're also working on a new 48-unit community in Estacada, Oregon in partnership with Home First and Green Light Development. The project is a test case for new approaches and design strategies—from site concepts to details—that can be applied to a range of housing types and contexts. The goal is to develop an efficient and effective design vocabulary that will expedite delivery, elevate the project's performance and design expression, and most importantly, enhance the lived experience of residents and community partners.

Rockwood Village. Photo: Jeremy Bittermann
AN's Summer Issue on Collective Living
Immersion Therapy


Six weeks in and the reports have been glowing for Hopscotch, which has expanded Portland's creative landscape and created a new arts and entertainment destination for the region. While most of the credit goes to the artists and to founders Nicole Jensen and Hunter Inman, we worked to develop a concept that would facilitate free exploration and discovery, while giving the installations and visitors room to breathe and connect in new ways.

It's possibly the most fun you can have in an art gallery. A few suggestions: plan ahead if you'd like to visit (as reservations are typically booked 2-4 weeks in advance), leave extra time to explore, and bring a friend!

We hope your summer is going well, wherever you find yourself, or wherever it takes you. Cheers ~ WA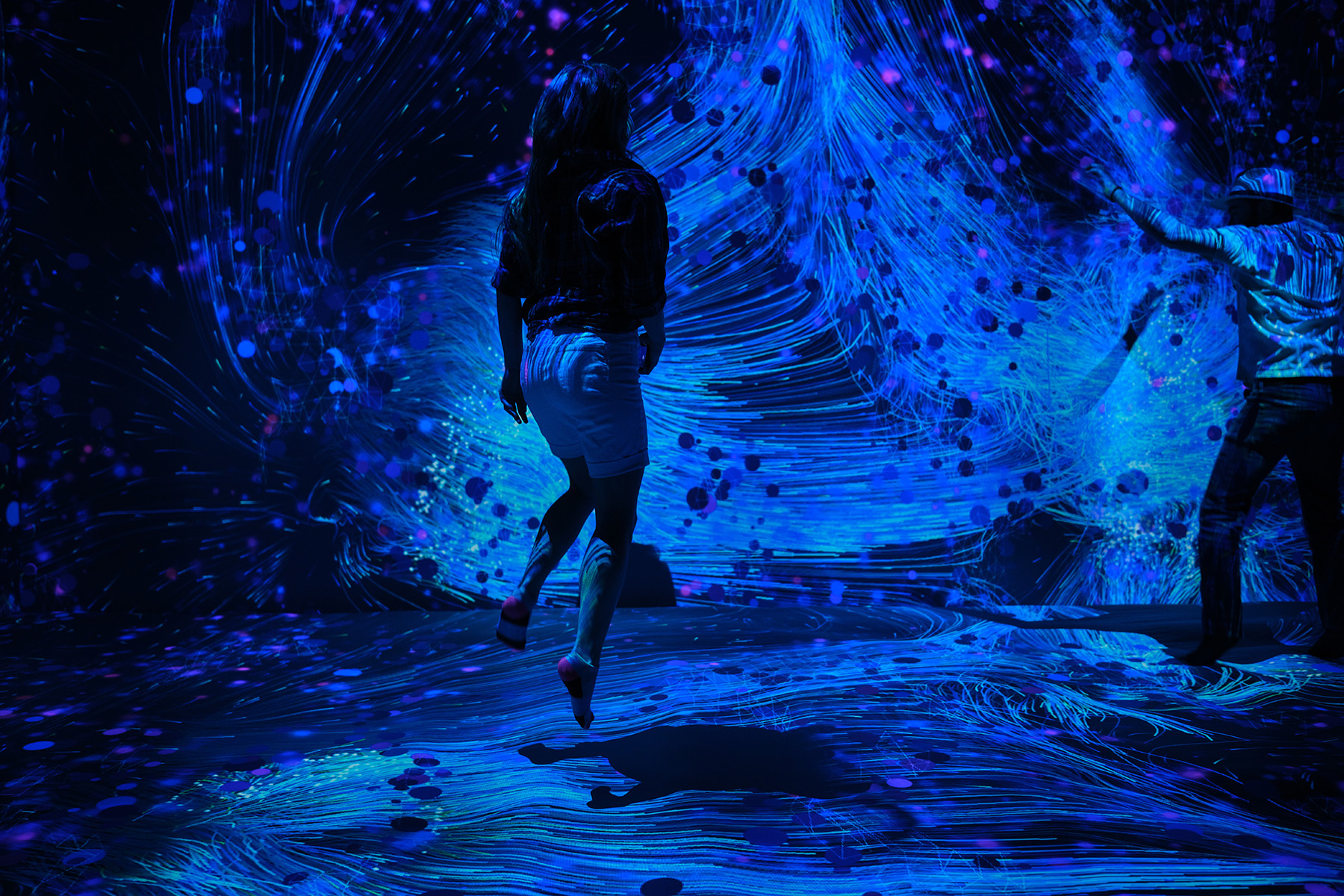 Photos: Tim Trautmann
May 2023
---
As we move through a busy May and into Memorial Day weekend, we thought we'd share a few notes from our ongoing projects and announcements of upcoming events. Wherever you are, we hope your summer plans are shaping up beautifully.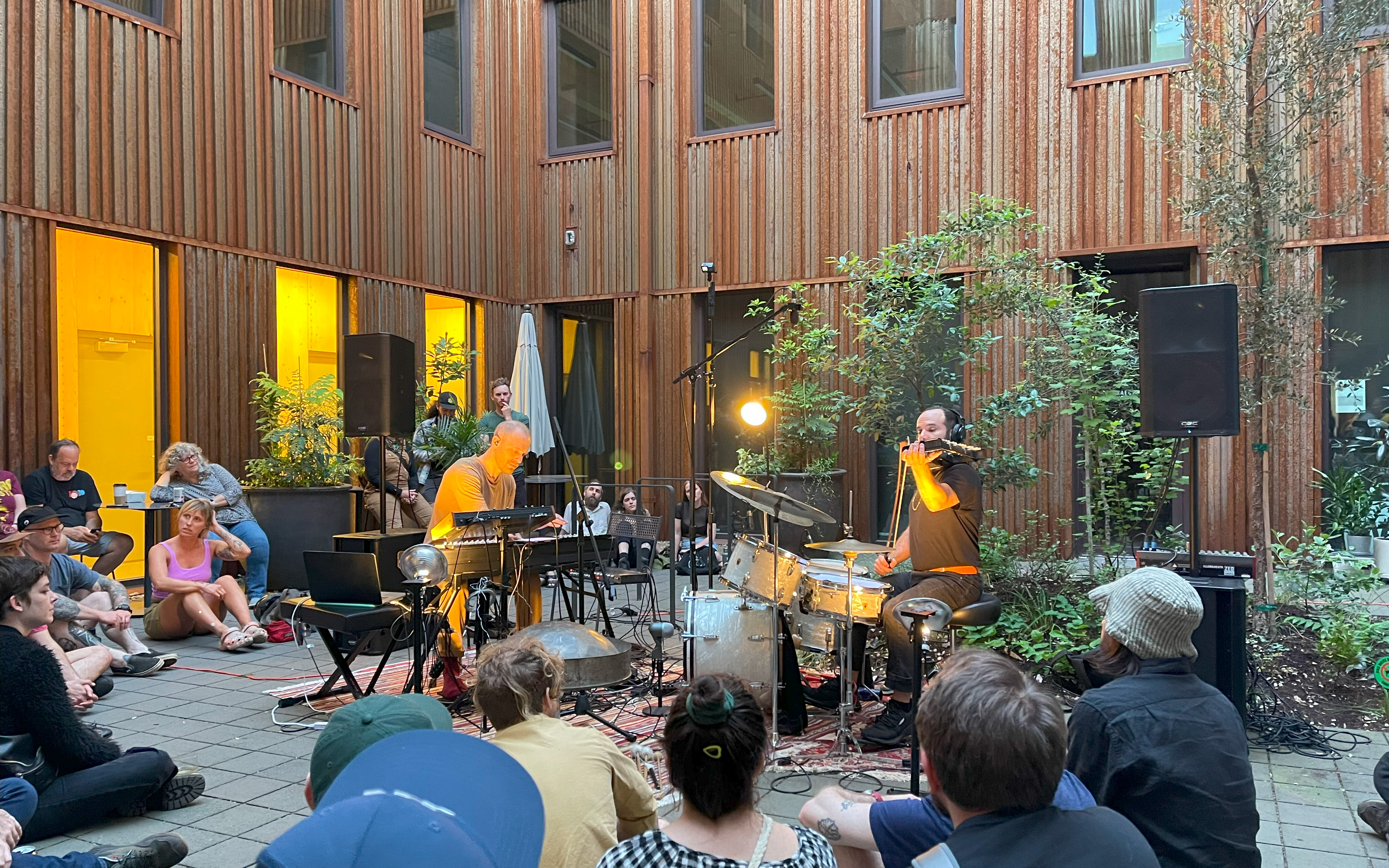 Mississippi in Motion
One year on from the opening of Waechter's Mississippi Workshop, we've had a chance to reflect on the experience of designing, developing, working, and living in a building filled with new approaches to ecological design and mixed-use development. A recent article in
Dezeen
presents Mississippi as a manifestation of Waechter's design philosophy: a clear, integrated, and adaptive framework that can be applied to almost any need or condition. New photography by Samuel Gehrke and our own William Smith has provided a glimpse of the human dimension of this all-purpose project.
This summer, we're hosting an array of performances in our courtyard, including the amazing
Bora Yoon
on June 15th, presented by Third Angle New Music, and a weekend concert series organized by our friends at Capitola Coffee. The series kicked off with a show by
Methods Body
last Saturday evening, pictured above.
Photo by Willam Smith
Photo by Samuel Gehrke
Open Houses, New Perspectives

This June will see the opening of two highly-anticipated projects, and a chance to explore an early Waechter residence. Construction and final installation are wrapping up at Hopscotch PDX, which will offer a feast of new creative works, environments, and sensory experiences in the heart of Portland's Goat Blocks. Tickets for the public opening on Friday, June 9th (and beyond) are available
here
and via the
Hopscotch website
.
Move-in is also imminent for a new residence in Northeast Portland—or what we're calling the Trilogy House—which has garnered attention for its layering of an earth-sheltered concrete base, transparent living spaces at garden level, and a private upper floor veiled in a vertical wood screen.
Elsewhere in Portland, the Slender House presents a different take on Waechter's residential design concepts, and it will be a part of the upcoming Portland Modern Home Tour on Saturday, June 3rd. Tickets are available at this
link
, and are going fast!
Trilogy House (under construction)
Slender House, main stairway
Waechter on the Web
After a series of conversations about Waechter's mission and goals, and with a wealth of new projects and visualization, we've worked to incorporate all of these into a new website (
www.waechterarchitecture.com
). We see this platform as an ongoing project and a place where we can share our team, our expertise, and our guiding insights and inspiration with greater fluidity. If you haven't stopped by yet, we invite you to take a look and come back often for updates, ideas, and information about our work.
Have a great holiday! ~ WA
April 2023
---
The first weeks of Spring brought even more snow to the Cascades, the first Trillium to the forest floors of the PNW, a National Design Award for Mississippi, and scores of visitors to Portland for the International Mass Timber Conference—and to our Workshop for conversations and a spirited after-party.
Mississippi Wins 2023 Wood Works Award
Last week marked another win for the Mississippi Workshop—a Wood Works National Design Award in the Commercial / Mid-rise Category, sponsored by the Wood Products Council and Forest Business Network, who also staged the International Mass Timber Conference in Portland from March 27-29th, bringing over 3,000 designers, engineers, manufacturers, and other attendees to our city. You can read more about the awards program and all the winners
here
, and about the project at this
link
, which will be added to the Wood Innovation Network gallery and global project map.
Over the past year, Mississippi has been widely recognized through articles and awards, including those sponsored by local and regional AIA chapters, architecture and design publications, and timber industry leadership. Overall, we see this as a win for everyone interested in creating more ecological, adaptive, and enduring buildings and cities, and in accelerating the adoption of new approaches to make this a reality.
Most of all, we love being able to share Mississippi with others, whether it's a cup of coffee at
Capitola
, a walkthrough or working meeting in our studios, or a special event in the courtyard and workshop on the ground floor. Which brings us to last Wednesday...
Designing the Forest—a Conversation with Lindsey Wikstrom
On March 29th, to close the IMTC, we hosted an open house and conversation between Ben Waechter and Columbia University GSAPP Professor Lindsey Wikstrom, who shared research and insights from her new book entitled
"Designing the Forest & Other Mass Timber Futures"
, which is now available for order online.
With upwards of 100 people attending, Ben shared our ongoing analysis and documentation of the Mississippi Workshop, as well as the strategic thinking and principles behind the project. Lindsey presented an inspiring account of how we can better unite mass timber's origins in native forests with possible outcomes, offering a glimpse of what genuine transformation looks like within our industry and wider culture.
As we continue to analyze, document, and propose new approaches to mass timber buildings through our USDA Wood Innovation Grant, we are also building new partnerships and conversations with design peers, specialists, and development partners from all quarters of the AEC industry, and plan to host more Timber Talks in the months ahead.
Hopscotch Portland—Opening June 2023
Work continues to prepare 23,000 square feet of Portland's Goat Blocks development at SE 10th Ave and Yamhill Street for the arrival of
Hopscotch
, a Texas-based collective dedicated to exhibiting immersive and engaging works from local, national, and international artists.
Opening this June, thirteen new galleries, or 'squares' of varied sizes will be programmed and installed on a rotating basis, and are all connected by a loop of circulation that offers visitors a feeling of being backstage, yet intimately linked to these diverse acts of creation.
Read more about the project and the visionary team behind Hopscotch, and some of the new works coming to the city in this month's
Portland Monthly
.
February 2023
---
After a cold start to this new year, we're looking forward to clearer skies, longer light, and the energy of new projects and conversations, both in our offices and in the wider design press. Read on for a quick overview.
Major Press on Waechter Projects & Concepts
For many years, we have pursued a distilled approach to architecture that applies to any context or condition; what we call the Clarity Project, manifesting in varied forms from a shared sensibility. In response to queries from Seattle design writer Lauren Gallow, we chose a broader term—essentialism—to speak about something we feel resonates in our complex and complicated era.
In describing our position, Ben Waechter offered that
"What we're really getting at with our work is a shared sense of design economy and experiential clarity."
Last week,
Architectural Digest
listed essentialism as one of America's emerging residential styles today, and recently, our Meadow House was featured in
Wallpaper* Magazine
. There's a unifying philosophy at work that emphasizes simple and honest use of materials, clear spatial organization, and profound connection to the landscape, and projects like the iconic Tower House and Meadow House might be the purest expression of these principles to date.
Upcoming events at WA's Mississippi Workshop
As we're beginning work to analyze, document, and propose new approaches to mass timber through our USDA Wood Innovation Grant, we are also eager to use this as an opportunity to spark new partnerships and conversations with peers, partners, and educators from all quarters of the AEC industry.
On March 29th, in conjunction with the International Mass Timber Conference in Portland, WA will also be hosting an open house and conversation between Ben Waechter and Columbia University / GSAPP Professor Lindsey Wikstrom, who will also be sharing her new book entitled "
Designing the Forest & Other Mass Timber Futures
", available this spring. More news on all of these in the days to come.
After the recent snowstorm, we have rescheduled our first Timber Talk for early March, as a forum to share student work from our recent All-Wood building studio, ongoing research from the University of Oregon and Portland State University faculty, and recent work by Lever, Waechter Architecture and HomeWork Development.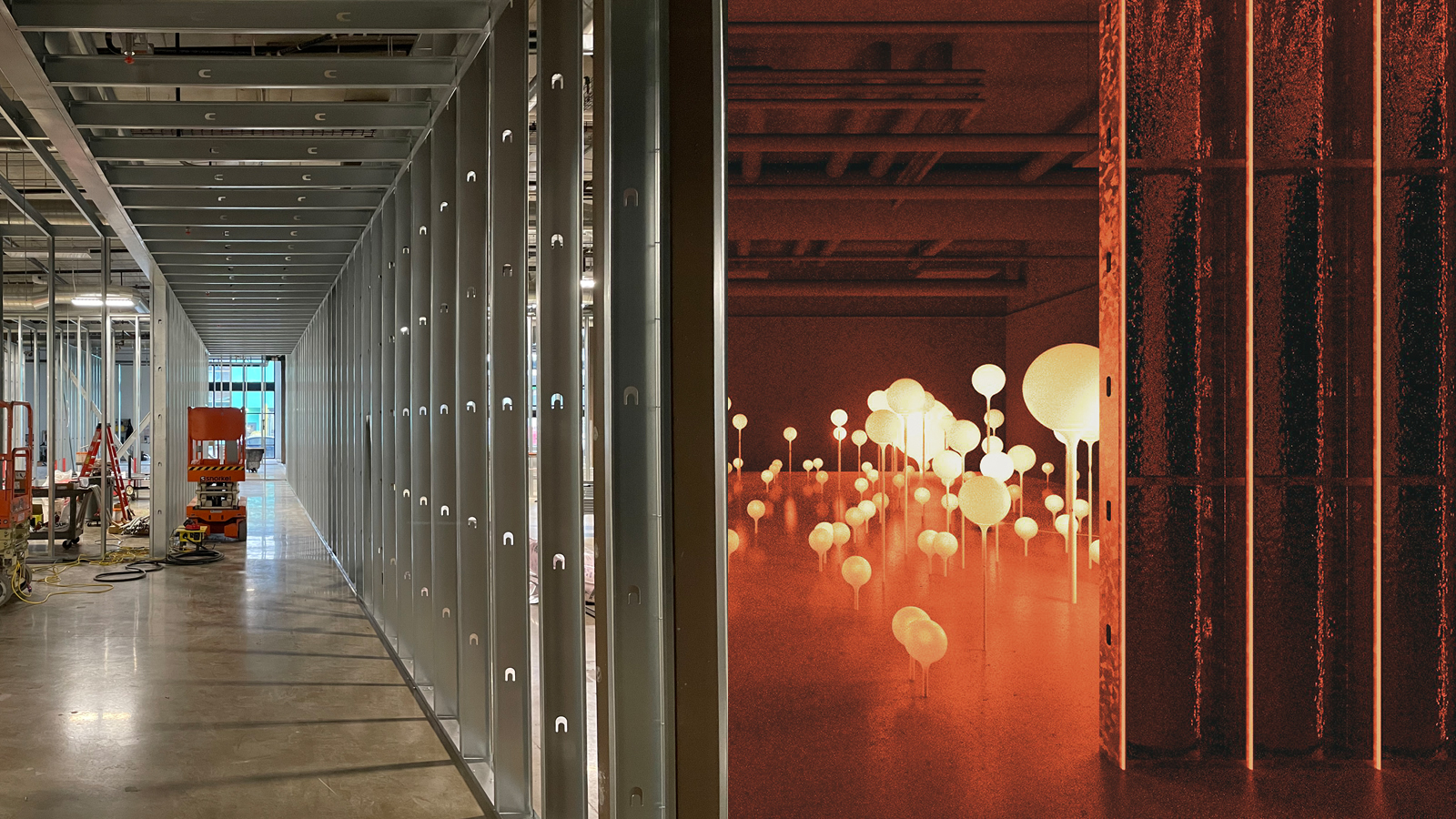 Hopscotch is Taking Shape on the Goat Blocks
After a year of discussion, design, and project development, Portland's first gallery dedicated to immersive and experiential art is under construction at SE 10th Avenue and Yamhill Street. Built for the Austin- and San Antonio-based collective
Hopscotch
, the 20,000sf project is an opportunity to provide dynamic new exhibition and social spaces, connect with local artists and communities, and bring new creative voices to our region.
Like the galleries themselves, the connecting pathways of Waechter's design offer an unfolding experience through varied installations and exhibits, giving visitors a feeling of being backstage, yet intimately linked to these diverse acts of creation. Stay tuned for more info on opening events and artists, slated for June of this year.
December 2022
---
New Conversations
In March, Ben Waechter was elected to the College of Fellows of the American Institute of Architects, becoming one of the youngest architects in our region to receive the FAIA designation. Ben lectured widely in 2022 and was involved in numerous regional awards juries and peer review programs. Earlier this month, Ben joined Landscape Architect Walter Hood, Architect David Baker, and former LA Times Critic Christopher Hawthorne in San Diego for the annual architecture week at Miller Hull, looking holistically at the firm's work and the state of the profession overall. In 2023, his critical contributions will continue as a reviewer for the General Services Administration Peer program, helping to ensure design excellence and innovation in our nation's public works.
Multiplying Our Impact

This Autumn, WA's
Alexis Coir, William Smith, and Judson Moore led a graduate architecture studio at the University of Oregon
which focused on the design and detailing of new mass timber / all-wood construction prototypes. The studio began with research into historical precedents and modern day mass timber fabrication and looked to reveal a range of new applications and expressive potential of all-wood / CLT buildings. Collectively, this work dovetails with Waechter's
USDA / US Forest Service Wood Innovation Grant
, which will measure the performance of our all-wood Mississippi Workshop, and alongside builders, fabricators, and developers, provide both the methods and metrics for widespread adoption of this technology.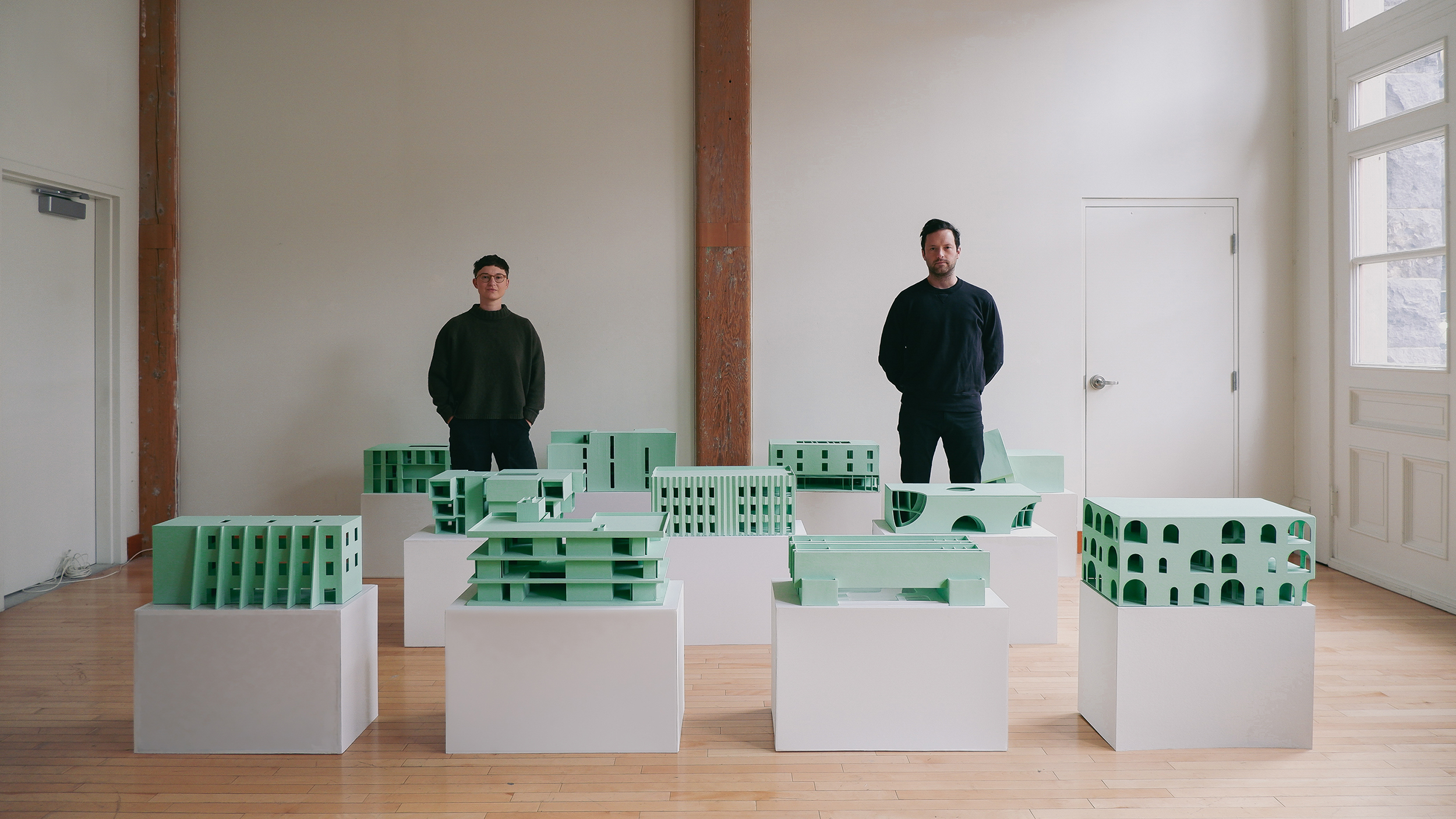 Waechter's projects also received significant recognition in 2022, with awards for the Meadow House and Mississippi from AIA Northwest & Pacific Region, citations for Mississippi and Rockwood Village affordable housing from AIA Oregon, and two finalist designations for Mississippi and Rockwood at the sixth annual Gray Awards.
Mississippi took home the Gray Magazine Design for Good Award earlier this month, and most recently received a Silver Medal from The Architect's Newspaper Best of Design Awards program
. Overall, Waechter Architecture also received the 2022 Firm Award from AIA Northwest, which is a turning point and testament to all those who have helped grow the studio over our first fifteen years.
Expanded Horizons

As we look ahead to 2023, we're hoping to build on our accomplishments and find applications for our growing base of expertise in commercial, housing, hospitality, infill projects, and mass timber construction. We'll also be opening new cultural space on Portland's Eastside with the launch of
Hopscotch PDX
, and we'll continue to host a range of new events and conversations (and tastings!) in the heart of our Mississippi HQ. We hope you'll join us, and from everyone at Waechter, we hope you all have a safe and prosperous new year.
November 2022
---
Congratulations to all on making it through (another) Cyber Monday — As we count down the days until 2023, we thought we'd share a few small yet significant digits to mark the start of the holiday season:
3 — Three Residences Under Construction

Waechter's portfolio of innovative and exquisitely crafted residences continues to expand, with construction advancing on three projects in varied contexts:
Dune House
in Manzanita balances contextual sensitivity and iconic form. Traditional cedar shingle cladding is paired with oak-paneled interiors, giving the building a calm, carved, and monolithic presence.
Madison House
, located at the foot of Portland's Washington Park, reads as a series of planes stepping back from the street, creating a sense of grounding and refuge. Across the Willamette, the
Glass House
re-imagines a traditional Portland home through a distilled form that engages the earth, offers privacy, and reconnects to nature. The design creates three realms—cellar, garden, and canopy—each offering its materiality, character, and experience. Taken together, the houses illustrate unique approaches to the principle of clarity, with each carefully attuned to the place and the specific needs and vision of our clients.
2— Two Works Recognized at AIA & Gray Awards

After a (too-long) hiatus, it was great to be together with our Oregon architecture community to recognize outstanding works, and equally, the wealth of talent and creativity within our region. In a deep and diverse field of entries, Waechter was awarded two Citations, for
Rockwood Village
multifamily/affordable housing in Gresham, and our
Mississippi
workshop and headquarters in Portland.
In December, these projects will be competing head-to-head for a 2022 Gray Award in the Design for Good category, with each noted for their contributions to enduring and ethical design. We look forward to the annual awards banquet at the Fairmont Olympic in Seattle on December 5th.
We invite you to read Brian Libby's review of Mississippi for his Portland Architecture column in the Tribune, available at this
link
or by request.
1— One New Design Taking Shape In Bend

We're thrilled to be working on an elegant and elemental house project across the Cascades in Bend, Oregon. The residence will be a live / workspace for a young family who relocated from Seattle to Central Oregon during the pandemic and acquired property in
Tetherow
near the Deschutes River. The land and former structures on site were impacted by a recent fire, and thus the project will be an act of growth and regeneration, with a new garden courtyard serving as the focal point of the composition. We can't wait to share our progress as the design comes into focus.
October 2022
---
Hopscotch - A New, Immersive Gallery Concept In Portland, Oregon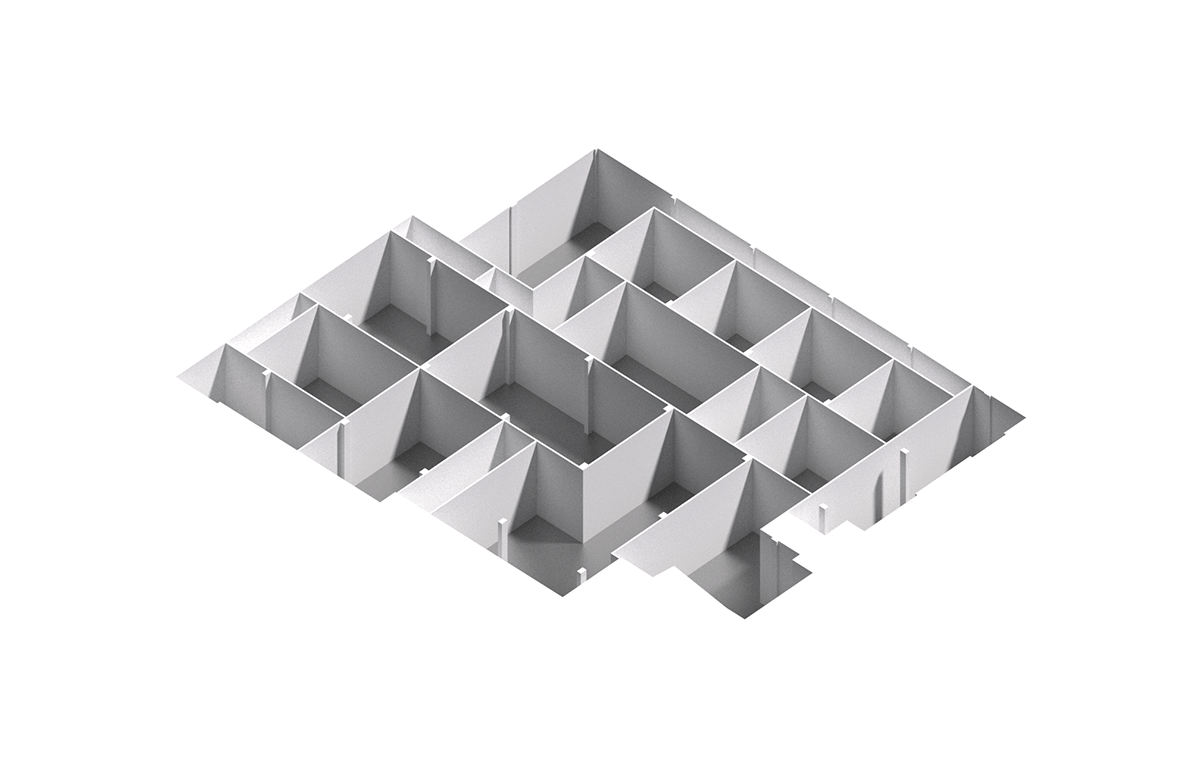 Founded in Austin, Texas,
Hopscotch
is an innovative arts presenter focusing on engaging, interactive, and immersive arts environments. After the success of their original gallery space in San Antonio, the founders reached out to Waechter to develop their first West Coast gallery in Portland's "Goat Blocks" mixed-use development. Our exploration has been both practical and evocative, seeking new ways of linking artist environments and offering visitors a sense of agency and a spectrum of possibilities for engagement.
The design of Hopscotch adds to the unfolding and immersive nature of the gallery while giving visitors the feeling of being backstage—or behind the curtain—for diverse acts of creation.
With a rotating roster of artists from the region, the US, and internationally, the Hopscotch plan, linked by an unbroken loop of circulation, allows for spaces to be changed over without interrupting the flow and feel of the galleries. A modest budget and the need to create visual relief and acoustic buffers between spaces led to the development of a scenography of exposed studs, simple finishes, and a darkroom lighting concept.
Hopscotch PDX is slated to open in early 2023, with a Los Angeles gallery, currently in early concept design, to debut the following year.
Corollary Wines - New Tasting Room And Visitor Center In Ecola - Amity Hills AVA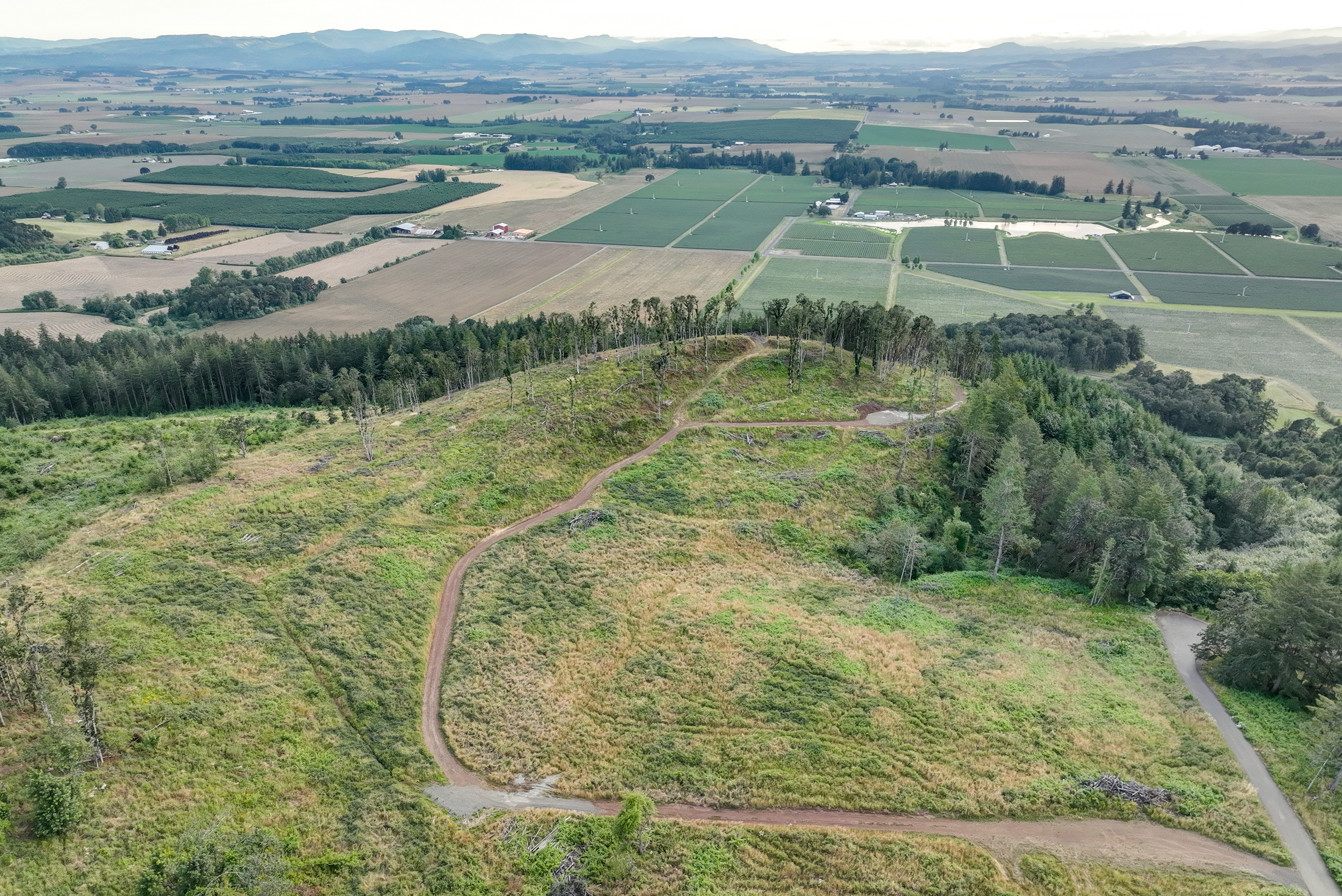 A relative newcomer to the Oregon wine community, Corollary has already expanded the map by producing some of the Willamette Valley's finest sparkling vintages. This spirit of exploration is
also the driver for their newest project — founders Jeanne & Dan acquired 57 acres in the Eola-Amity Hills AVA and are developing Oregon's first property dedicated exclusively to sparkling. At the same time, they're committed to creating an integrated and regenerative agricultural system across the entire site.
When complete, the new estate vineyard will have a visitor pavilion and tasting room, a private residence, and a winemaking facility. Waechter worked with Corollary and their permaculture team to first understand the landscape and develop site strategies for these structures. We're also at work on concepts for their first building project, which will provide a range of interior and exterior spaces for curated tastings, dining, and entertaining.
Slated to open in 2024, Corollary's new visitor pavilion and tasting room will provide a focal point for their new estate, and a testing ground for sustainable approaches to winemaking and stewardship of the land. We couldn't be more excited to work with them as they transform this amazing property.
Waechter Explores Mass Timber And Wood Innovation With UO Studio
"All-Wood" buildings are nothing new, and each time and culture have its own take on this technology. Today, the need for innovative, economical, and scalable approaches to mass timber are more important than ever. As part of their Fall term curriculum in Portland, we're working with ARCH 484/584 students from the University of Oregon on prototypes which explore the logic and methods of all-wood / mass timber construction. The studio will prioritize singular systems to seek out more substantive and integrated results, exploring the potential for mass timber projects to be programmatically flexible, and at the same time, experientially and spatially unique. Beginning with historical research and case studies, and working from the details outward, we'll apply these insights to create design proposals that seek a balance of efficiency, durability and new expression.
The work of this studio dovetails with the commencement of our US Forest Service / USDA Wood Innovation Grant, which will study the performance of our Mississippi Avenue headquarters, and will look to share lessons, applications and approaches to mass timber construction to create new markets and capabilities for US forest products.
We've welcomed a lot of people to "Mississippi" recently—from developers, design partners and aspiring architects to a recent meeting of the AIA Fellows. With each visit, we learn more about what this building can offer to the profession and to our region.
September 2022
---
Waechter Architecture Wins At Northwest & Pacific Awards

We're delighted to announce that Waechter Architecture received the 2022 Firm Award from the AIA Northwest & Pacific Region Honors Program. This body represents component chapters from Alaska, Hawaii, Washington, Oregon, Idaho, Montana and Pacific Territories, and the award is given to only two firms each year, with WA facing strong competition in the Small Firm category.
The Firm Award is an acknowledgement of Waechter's outstanding contributions to the profession of architecture, commitment to design excellence and elevating the quality and vitality of the built environment. The award was presented during an event held in conjunction with AIA Washington Council's Civic Design Awards on September 22 at Graypants Studio in Seattle.
In addition to our 2022 Firm Award from the AIA Northwest & Pacific Region, Waechter Architecture was recognized for two projects completed earlier this year: The Meadow House received a Merit Award, and was noted for its clear organization and massing, and the residence's connection and engagement with Madison Meadow, a native landscape at the heart of Eugene's College Hill neighborhood. Our Mississippi mixed-use / mass timber project in Portland received an Honorable Mention in recognition of its innovative all-wood construction, adaptive planning principles, and provision of a new courtyard and civic amenity that serves the buildings occupants as well as the surrounding community.
We see these awards as a celebration of all who have worked at Waechter during our first 15 years, and a turning point as we look to expand our reach and engagement with new places, partners and projects—all while staying true to our vision and principles.
We'll be sharing more information on critical recognition for our recent works, as well as new team members and project announcements in the days ahead.


---
AIA Northwest & Pacific
AIA Northwest & Pacific Design Awards
Project:
Mississippi
AIA Northwest & Pacific Design Awards
Project:
Meadow House
August 2022
---
Rockwood Gets Its Ribbon Cutting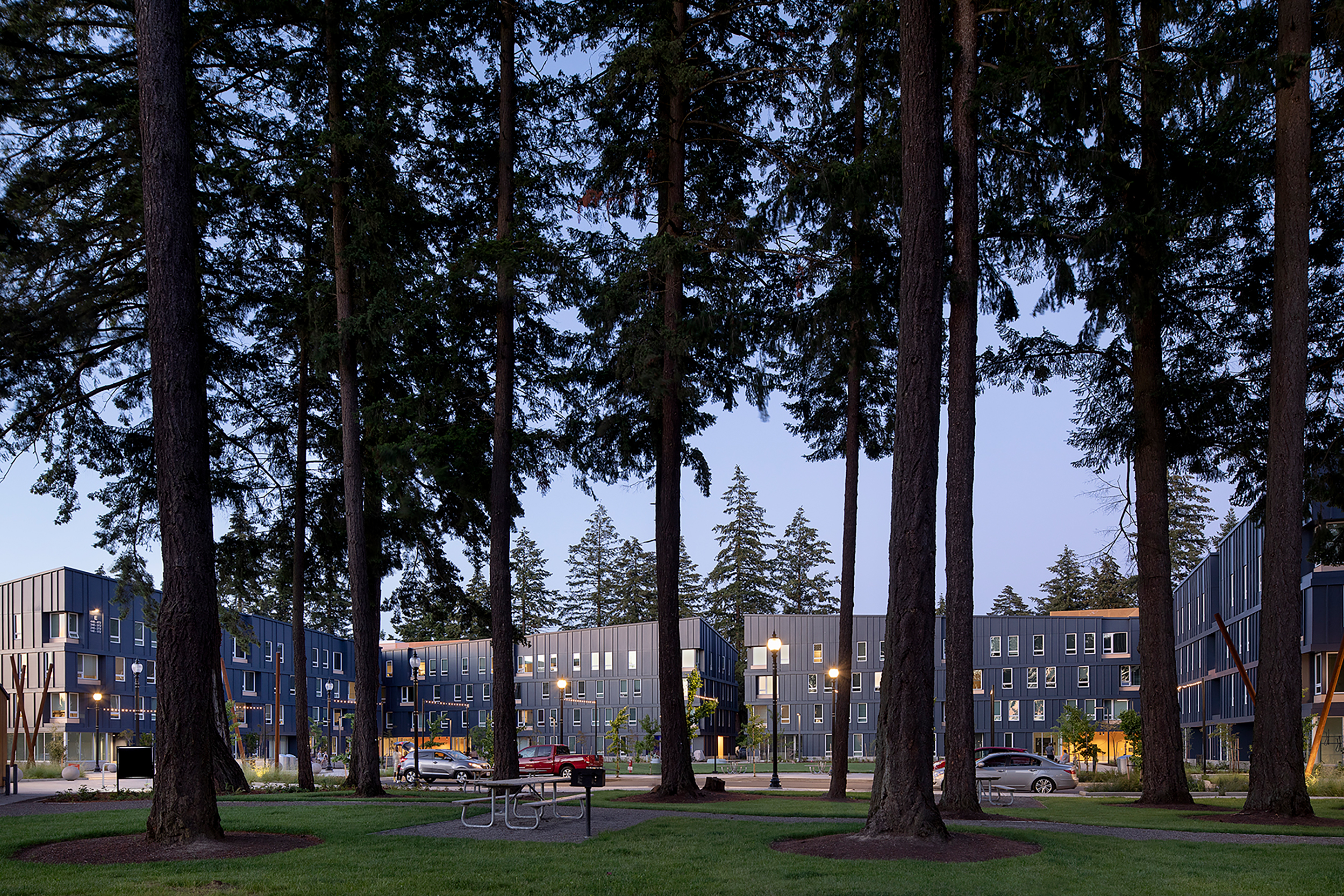 After years of hard work by all team members involved, our Rockwood project formally completed with a public ribbon cutting. During the morning event, co-developers Ernesto Fonseca, CEO of Hacienda CDC and Eric Paine, CEO of CDP were joined by Mayor Travis Stovall, City of Gresham; Council President Eddy Morales, City of Gresham; Councilor Dina DiNucci, City of Gresham; Commissioner Lori Stegmann, District 4, Multnomah County; Councilor Shirley Craddick, District 1, Metro; and Kate Gonsalves, Communications Manager, Oregon Housing & Community Services (OHCS).
Although the project was already in construction when voters passed Metro's affordable housing bond in 2018, the new funding stream made it possible to designate 47 of these homes as "deeply affordable." These apartments are reserved for households whose income is 30% of the area median income or less, which is $22,380 for a household of one or $31,950 for a household of four. The remaining apartments are reserved for households making 60% and 70% area median income or less.
As articulated by Eric Paine, CEO of Community Development Partners: "We are here to stay hands-on, we are here for the long haul. T his is a space to learn, celebrate and come together as a community."
AND MISSISSIPPI GETS ITS OPENING PARTY!
We had a great time hosting our clients, collaborators, colleagues and friends at our first summer party. The event also served as an opener for Capitola Coffee located on our bottom floor. Part of the goal in Mississippi's design was creating a shared public space that would lead to more events just like this one. We are looking forward to hosting more in the future!
May 2022
---
WA's MISSISSIPPI OFFICE IS COMPLETE!
We are excited to share that our long term project of building the Waechter office a new home is complete! Over a decade in the works, this All-Wood CLT building will house Capitola Coffee and our workshop on the ground floor, our studio on the second floor, and one apartment spanning the third floor. As the building evolves over time, these spaces will accommodate changing uses and invite the public into its courtyard for various programs.
Led by the Project Manager Alexis Coir, our studio had the unique opportunity to act as our own builder. You can find more information about the project
here
.
Our principal Ben Waechter also recently presented the All-Wood approach of our Mississippi project at the University of Miami. Organized by the Littoral Urbanism Lab with contribution from the US Forest Service, the symposium "Mass Timber: So What Now?" brought together a range of leading practitioners and academics to discuss what is upcoming in the world of mass timber architecture:
March 2022
---
BEN WAECHTER ELEVATED TO AIA COLLEGE OF FELLOWS
It is with great pleasure we get to share that Waechter Architecture Principal, Ben Waechter was named a 2022 Fellow by the American Institute of Architects (AIA).
"AIA Fellows are recognized with the AIA's highest membership honor for their exceptional work and contributions to architecture and society. Architects who have made significant contributions to the profession and society and who exemplify architectural excellence can become a member of the AIA College of Fellows. Only 3% of the AIA members have this distinction."
This is an honor to be recognized and we congratulate Ben on his achievement! Visit
AIA National's
website for more information on the college of Fellows and to view the complete list of newly elevated architect Fellows.