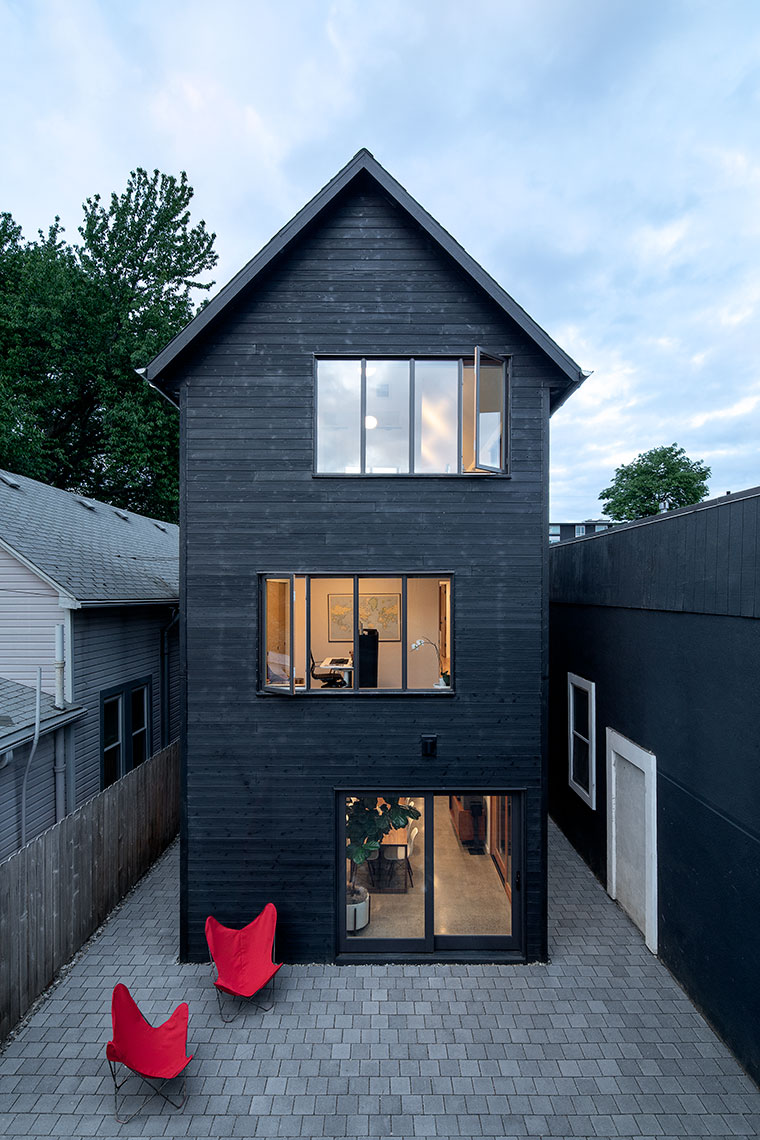 Slender House

---
The Slender House project addresses the problem of building on a tight infill site, embracing the limits of its property to maximize the structure's experienced scale.

Located on a narrow, twenty-five-foot-wide lot, the buildable area for the project was further restricted by five-foot setbacks on either side and a ten-foot setback from the adjacent sidewalk. Despite these limitations, the clients required a full-size, three-bedroom house, along with a garage and an additional apartment.

In response to these constraints, our approach was to maximize the perceived width of the site by redefining the relationship of the building to these setbacks and limitations. The first step toward this goal was to perceptually push the setbacks of the site back to the property line by creating a singular surface that stretches across the entirety of the lot. Realized as a grid of square stone pavers, this continuous texture acts as a carpet, re-scaling the building as furniture within the "room" of the property. The different components of the house were then broken apart and redistributed across the site to frame a new central outdoor living space, co-opting the blank wall of an adjacent two-story masonry building to serve as a third surface.

The materiality of the project reinforces the object-like quality of the buildings. A rough charred wood cladding on the exterior protects a pristine interior of quarter-sawn white oak flooring, cabinets, and doors. Building on the site strategy, the interior organization further takes advantage of the narrowness of the site and its relationship to the adjacent masonry building. The service areas of the main house – stairs, closets, and bathrooms – are consolidated in the center of the building's plan, breaking the remainder of each level into two open, primary rooms on either side. On the ground level, operable glass doors face the alley between the new house and the existing neighboring building, allowing for the living space to continue into the building's setback and the new outdoor space.


While accepting the restrictions of the zoning and building code, Slender House nonetheless mines the potential of surface treatment and strategic orientation to regain the space lost through setbacks. The result is a house that although constricted on a narrow site, ultimately seems to stretch out, embracing its neighbors.